The flower for Gion festival in Kyoto! " Leopard flower"
Flower for Gion Festival in Kyoto
Gion festival seems not so famous among foreign tourists, but it's one of the 3 biggest festivals in Kyoto. Kyoto citizen enjoy this festival for a month in July.
The highlight is the parade in July 17th, but we have the many things to do for a month!
Displaying Leopard flower, Hiougi in Japanese is one of them.
Leopard flower; Hio-gi
Hio-gi, leopard flower is classified into Iridaceae. In Japanese, Hio-gi means the big fan made of hinoki cypress the noble ladies had used in Heian period (794-1192). Japanese think that it's similar shape as the fan for noble people.
The fan Hina doll for March 3rd festival is also not just fan but Hio-gi.
Since it has thick leaves, some people says it's like the food for dinosaurs. But, actually, its flower is pretty orange.
I decollate Hio-gi in the waiting room of Tea Ceremony Koto now to feel Gion festival. Even Japanese customer don't notice so often.. but it's the flower for Gion festival we can find so often in the houses or shops around Shijo-street if we carefully watch the show case or alcove.
The festival for folding screens!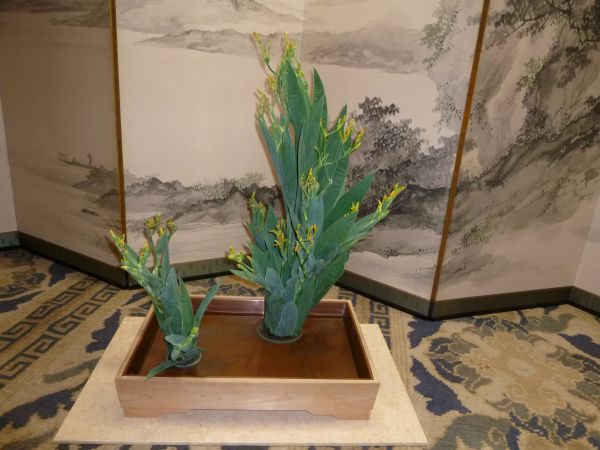 Gion festival is called "folding screen festival" in other words because the traditional houses around Shijo or Gion area in Kyoto open their house to show their treasures.
Japanese flower arrangements from many flower schools will be displayed as well as the treasures along Shijo-street. Shops along the street will lend the space to display beautiful Ikebana, which makes the festival more traditional and peaceful.
Although they tend to be hidden by the hectic open air market at night in 15th and 16th , the best thing to do for Gion festival is visiting traditional houses for me. Compared to other prefectures, the festival in Kyoto is said to be very peaceful and calm. Decollating the flowers is the typical style of Kyoto.
Leopard flower; Hio-gi for tea ceremony
Since Hio-gi is too large for tea room sometimes, the little Hio-gi is often used for tea ceremony around Gion festival.
The small orange flowers look attractive with the pink dianthus and white Chinese lizard's tail in the basket made of bamboo.
Although the photo has too many flowers, it is more lovely in the tea room.
photo https://commons.wikimedia.org/wiki/File:Crocosmia_x_crocosmiflora2.jpg